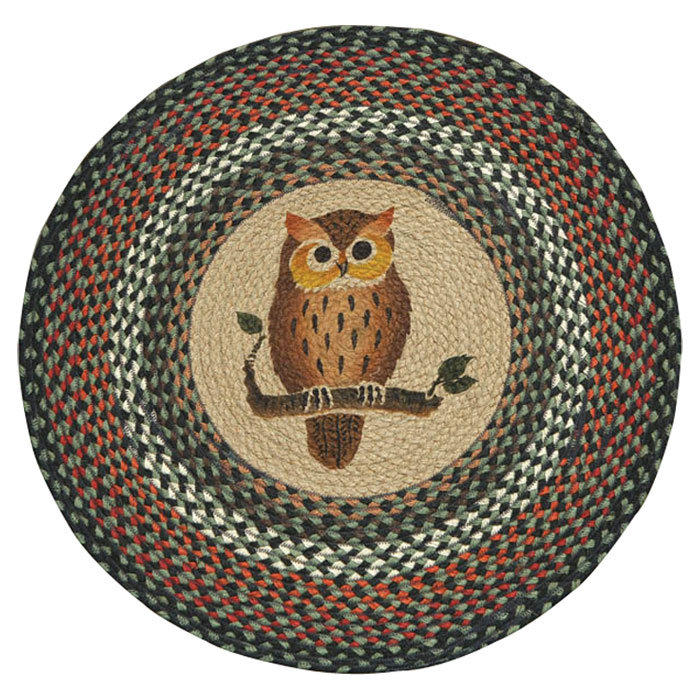 Owl Novelty Natural Area Rug
The handcrafted Owl Braided Rug by EarthRugs, features an adorable owl in the center, with earth tone concentric circles surrounding him.
A cute little owl makes this round braided area rug perfect for your room with wildlife decor.
Natural browns and beiges will complement your outdoor theme.
This is a little rug that you'll want to highlight in a special location—at the front door or in front of your favorite chair!
This is an eco-friendly rug that will give you years of use, and then it can be composted.
Size:  This Owl Braided rug measures 27" x 27", and it just comes in this one size.
Colors:  Tan, green, terra cotta, cream, brown, gold
Rug Pad: Recommended
Care: Vacuum frequently. Spot clean with a mild soap and water.
Material: Jute/sisal
Manufacture Technique: Hand braided and hand stenciled.
Traffic Grade: Commercial grade for heavy foot traffic.
Use: Indoors or outside under cover
Country of Manufacture:  Bangladesh
Shop safely at Wayfair and enjoy free shipping on most everything.
About EarthRugs
Earth Rugs® started their business in 1980, making a unique line of jute/sisal rugs.  They specialize in strong, durable rugs made from jute fiber and with unusual and stylish designs.  In addition to their traditional rugs, they are now offering distinctive braided table accents and braided log carriers.
EarthRugs strives to give you the best quality on the market, the best service and to provide customer satisfaction.  They want your experience with Earth Rugs® to be delightful.
Visitors who viewed this braided area rug also viewed: