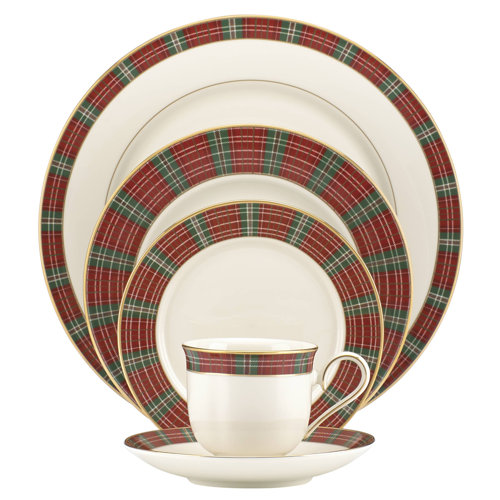 Winter Greetings Plaid 5 Piece Place Setting
Winter Greetings Plaid Dinnerware by Lenox incorporates a traditional Christmas plaid into fine Lenox china tableware, all trimmed in gold.
The set, while quite festive during the holidays, can be used any time of the year.
It's quite adaptable, and, used with a plain tablecloth (red, green or white), the dinnerware is striking.
Fine china, this set is not meant for children.
Winter Greetings Plaid Dinnerware is sold by the place setting.  When you order, you will receive one place setting, with 5 pieces.
Care:  I recommend hand washing.  Do not use in a microwave.
Colors:  Red, green, brown and trimmed in gold.
Lead-free:  Yes
Pieces included:
One Dinner Plate – 10.5″ diameter
One Salad Plate – 8″ diameter
One Bread & Butter Plate – 6.5″ diameter
One Saucer – 5.75″ diameter
One Cup
About Lenox
The Lenox company was started by Walter Scott Lenox, and it has been in business since 1889.
The company, known for its fine china and dinnerware, has made gifts, tableware and collectibles for U.S. presidents and for foreign dignitaries.
A real honor, Lenox was the first American china to be used in the White House.
Shop safely at Wayfair and enjoy free shipping on practically everything!
Visitors who viewed this Christmas dinnerware also viewed: