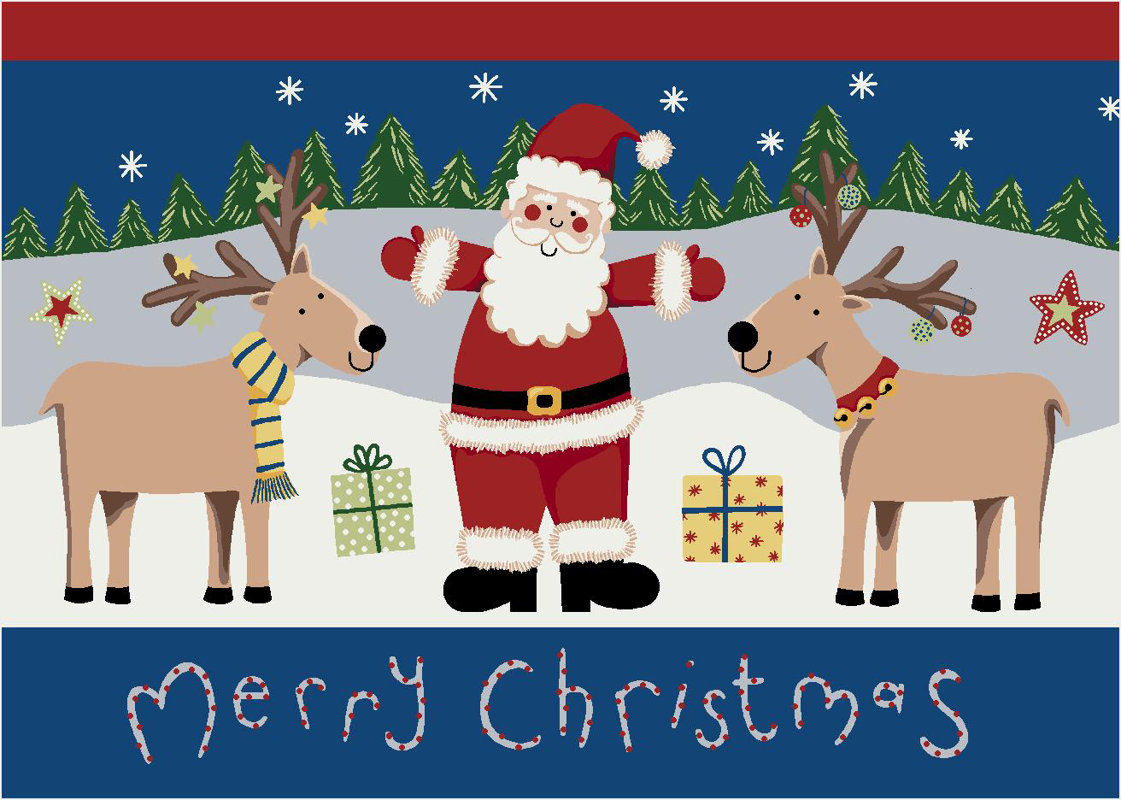 Winter Santa Deer Novelty Cabin Rug
The Winter Santa Deer Christmas Rug by Milliken depicts 2 reindeer with Santa.  Cute, whimsical and a great way to greet guests in your log or timber home.
Let Santa and two of his cute little reindeer greet your guests this Christmas season!
This colorful rug is practical, as well as decorative. It's made of premium nylon and has been treated with a Milliguard finish, which protects the carpet from soils and stains. And it is guaranteed to do that–for 5 years!
You'll be able to use this cute holiday rug in a number of places, because it comes in several sizes, making it adaptable to using in a number of rooms.
This adorable Christmas rug will last for years, and it will become a family tradition during the holidays!
If you're looking for a special holiday rug with a whimsical appeal, the Winter Santa Deer Christmas Rug might just fit the ticket…
Size:
2'8″ x 3'10"
3'10" x 5'4″
5'4″ x 7'8″
Colors:  blue, white, red, green, tan, yellow, gray
Rug Pad:  Recommended
Care:  Vacuum frequently.  Spot clean minor spills.  Clean professionally.
Manufacture Technique:  Machine Made
Traffic Grade:  Medium traffic
Use:  Indoors
Country of Manufacture:  USA
Warranty:  2 years
Shop safely at Wayfair and enjoy free shipping!
About Milliken
Milliken stands out among rug manufacturers because of its fresh approach to designs and manufacturing.  They use advanced technology to obtain specialized colors and customizable prints and designs.
Milliken rugs are colorful, tough, long lasting, soft and sustainable.  All their area rugs are now made with Stainmaster nylon, to assure durability and long life.
Milliken is the only textile company in Europe that has been admitted to the British Standards Institute for Excellence.
Visitors who viewed this Christmas novelty rug also viewed: