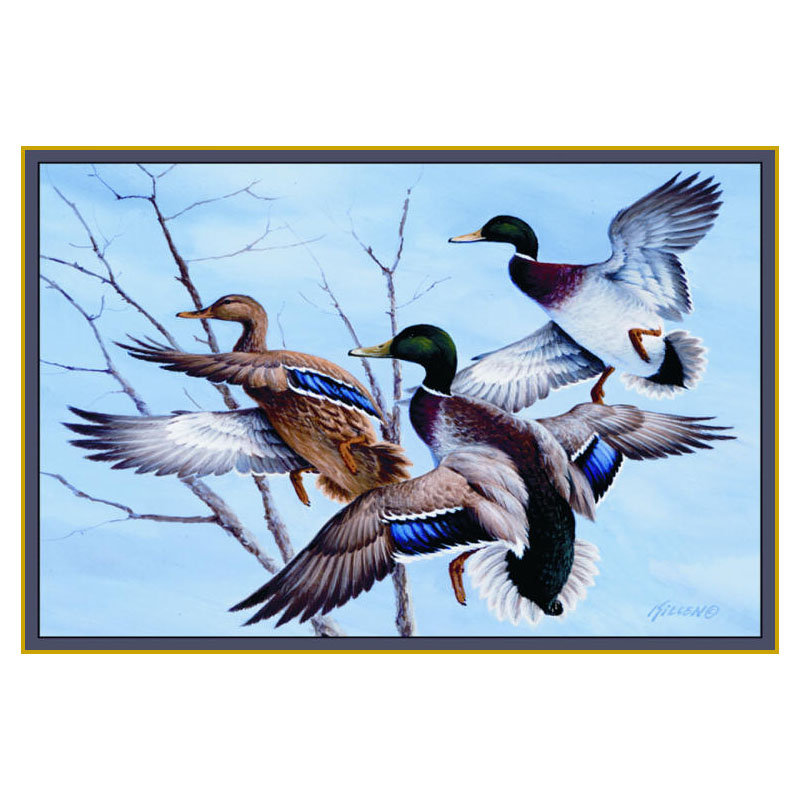 Mallards In Flight Area Rug
The Mallards in Flight Rug by Custom Printed Rugs, depicts 3 mallard ducks flying, with a beautiful blue sky in the background.
The beautiful blue sky highlights these lovely mallard ducks in flight.
Your timber lodge or cabin at the lake will be enhanced by this beautiful duck decor rug.
Measuring 37″ x 52″, the rug is made of nylon and it is reversible.
This duck rug has a non-slip foam backing, so you can easily use it in the bath, in the kitchen in front of the sink, or at the front door.
However, a rug pad is recommended.  If using the rug outdoors, you should use an outdoor rug pad.
The Mallards In Flight rug is odor resistant, hypoallergenic, lead-free and anti-static.
To clean the rug, spot clean using a mild detergent and water.
Made in the USA.
Works great with Wildlife decor and with lake or riverside decor, too.Shop safely at Wayfair and enjoy free shipping!
About Custom Printed Rugs Co.
Custom Printed Rugs offers a selection of wildlife, home accent, doormats and kids' rugs, designed by well known artists.
With exceptional details and colors, their rugs are appropriate for wall hangings or the floor.
Visitors who viewed this duck rug also viewed: