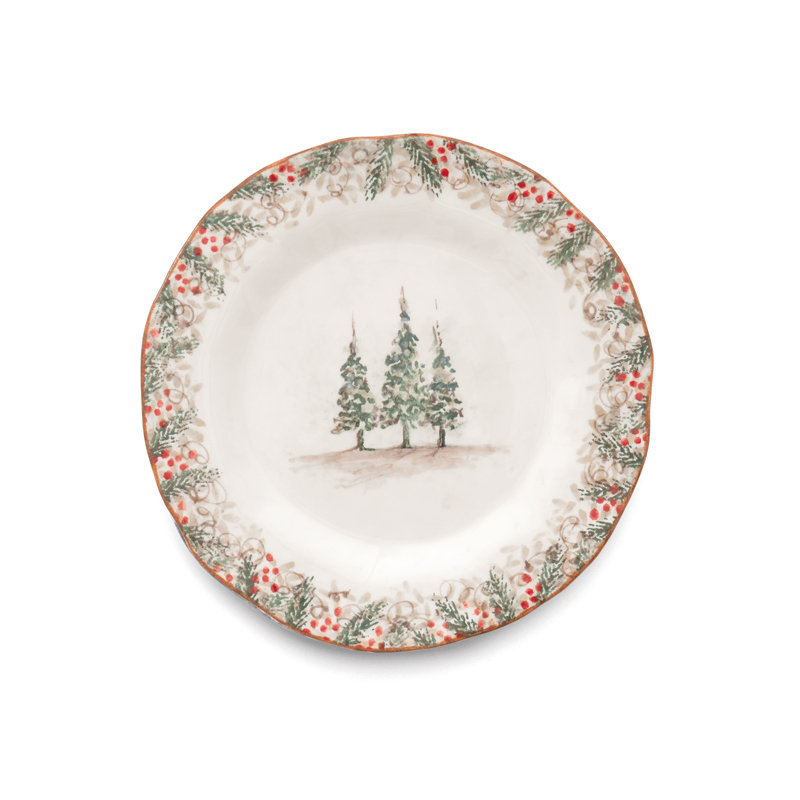 Arte Italica Natale Holiday Dinnerware
This Arte Italica Natale Holiday Collection of exquisite dinnerware is handcrafted in Italy and magnificent enough to grace the most elegant Christmas table.
Three snow covered trees are the center of attention while pine boughs and holly add interest and color around the border.
The edges of the dinner plate are irregular, adding interest and rustic appeal.
Not just for the holidays, this lovely dinner set can be used throughout the winter season for guests and family alike.
This dinnerware can be used to reheat food in the microwave on low.  It can be washed in a dishwasher with a low heat setting and the air dry cycle.
Each Arte Italica Natale Holiday Collection piece, unless noted otherwise, is purchased separately:
Natale dinner plate – 12″ diameter
Natale salad plate – 8.5″ diameter
Natale square plate – 8.5″ across.  Perfect for cookies for Santa.
Natale bowl – suitable for cereal or pasta. 8″ diameter
Natale tall mug – 4″ high
Natale divided serving dish – 2″H x 16″W x 8″D
Natale dipping bowls – set of 3.  Each has a 5.5″ diameter.
Natale Oval platter – 20″ x 14″
Natale Pitcher – 9.5″ high x 6.5″ diameter
Natale rectangular serving dish – 13.5″ x 7″
Natale serving bowl – 4.5″H x 11.5″W x 11.5″D
Shop safely at Wayfair and enjoy free shipping on practically everything!
Visitors who viewed this Christmas dinnerware also viewed: