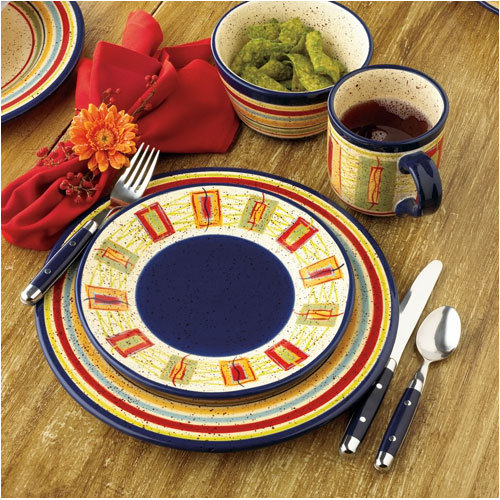 Pfaltzgraff Sedona Dinnerware
The Pfaltzgraff Sedona Dinnerware collection is sure to dazzle your guests, with its beautiful bright colors and its simple but classy designs.
The simplicity and colors of this pretty festive Earthenware, take you to the artistic community of Sedona, Arizona.  There you will see cute little shops of unique art and crafts and picturesque views of the mountains.
Each dinnerware piece is microwave safe, freezer safe, oven safe and dishwasher safe.
And you'll find that this collection is well made and will last for years!
You have a lot of choices for purchasing this set.  The sets and serving pieces listed below, are each purchased separately.  Here's what is available:
Sedona 16 Piece Dinnerware Set – This is a place setting for 4 people and includes four 11.75″ dinner plates, four 9.25″ salad plates, four 24 oz. salad bowls and four 18 oz. mugs.
Sedona 11.75″ Dinner Plates – set of 4 plates
Sedona 9.25″ Salad Plates – set of 4 salad plates
Sedona 24 oz. Soup or Salad Bowls – set of 4 bowls
Sedona 18 oz. Mugs – set of 4 mugs
Sedona 9″ Salad or Serving Bowl
Sedona Dip or Condiment Server Set – Includes the dip bowl and a matching knife for spreading cheese or dips.
Colors:  blues, reds, yellow, pale green
Place of Manufacture:  China
Shop safely at Amazon and enjoy free shipping on practically everything!
Visitors who viewed this Southwestern dinnerware also viewed: