Bear Creek 1 Light Pendant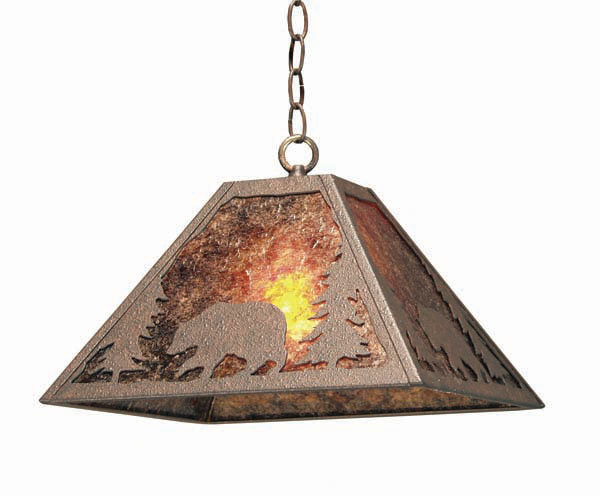 The 2nd Ave Design Bear Creek Pendant is a lovely handcrafted pyramid shaped light pendant that will add rustic charm to your home or business!
This heirloom quality work of art would be sensational in an upscale rustic restaurant, hanging over the booths or tables.
With a dimmable feature, you can dim the lights, to create flattering and romantic ambient lighting for your clientele.
Or, use the charming 2nd Ave Design Bear Creek Pendant accent light in your home in the kitchen, in sets of three, over an island.  Or use it in the dining area, the bedroom, bath, living room or great room, hallway or in the game room over your pool table.
Very versatile, this rustic pendant light can be used on a sloped ceiling, and it will still hang straight!
The look you see in the picture, has a hand hammered copper look.  If you want to get this look, you should select the Cajun Spice finish and the Real Mica shade.
Because you have a large selection of finishes and shades to choose from, you will end up with a "one of a kind" rustic pendant for your home or business.
The 2nd Ave Design Bear Creek light pendant is made of stainless steel metal (with the finish that you choose) and a high quality acrylic shade.  It is included in the Bear Creek Collection.
Each of these rustic pendant lights measures 8″ high x 14″ wide x 14″ deep.  The shade measures 8″ high x 14″ wide x 14″ deep.  The chain for hanging measures 24″ long.
The pendant light requires a 60 watt light bulb.  It is designed to be used in a dry location.
2nd Ave Design Bear Creek Pendant Details
Type of Fixture
Size:
Fixture: 8″ H x 14″ W x 14″ D
Shade: 8″ H x 14″ W x 14″ D
Mount Type: Flush mount
Where to Use: Over pool table, over dining table in restaurant, bedroom, dining area, entryway, dining area, office, hallway, living room
Electricity Required: 120V
Incandescent Wattage: 60 watt
Number of Bulbs or Lights: 1
Shade Material: Mica
Fixture Material: Stainless steel
Chain or Rod Length: 24″
Wire Length: 36″
Dimmable? Yes
Manufacturer: 2nd Ave Design
Country of Manufacture: USA
Warranty: 1 year
Shop safely at Wayfair and enjoy free shipping on most everything.
2nd Avenue Design
About 2nd Ave Design
2nd Ave Design Lighting has been in business since 1979. The company prides itself in manufacturing quality lighting fixtures, in a "green" factory, that preserves the environment.
The 2nd Ave Design company offers a wide variety of choices, including the rustic and whimsical cabin and lodge lighting that we all love. They offer an interesting selection of chandeliers, pendants, sconces, foyer lanterns and L.E.D.s for interior use. In addition, for exterior placement, the company manufactures brass and steel lanterns, shrouds and street lighting.
I really like the fact that most 2nd Ave Design products have a way to personalize or make the lighting fixture yours—the way you want it to look. For example, you might have a choice of sizes, finishes or textures. You choose the look, and the fixture is finished, especially for you.
You can also rest assured that each product was carefully designed, with designers, architects and builders collaborating to find the best rustic lighting products for quality log and timber homes.
2nd Ave Design products have also been used successfully in the hospitality industry, in upscale rustic hotels and restaurants.
All 2nd Ave Design lighting fixtures are proudly made in the USA.
How Do I Choose Products for Everything Log Homes?
When you shop for lighting products, you want to know that you are making a smart purchase of products that will look good, and last for years to come.
You and I both know that I couldn't possibly have used every single product shown here, in my own home. So how do I choose the products that I share with you on my website? In a nut shell, here's how I do it…
Rustic – because Everything Log Homes is about rustic log and timber homes, I look for rustic designs.
Things I Like – I know this is not scientific, but I do choose things that I personally like. It's pretty hard to write a description about a product that you don't like. I like to keep things fun!
Reputation of the Manufacturer – This is important to me because I want my purchases to be durable and last for many years.
Rustic Décor Product Reviews – I look at many sites online to see what people say about a specific product that they purchased. This is pretty subjective, but I do try to get a good sense of which products are good or bad. And I want to make sure that I recommend only the products that you will be happy to own.
Finally, I want you to know that I have not received any money from any manufacturer or retailer to review their products. And I have not received any free products from anyone, either.
I choose the products to review myself, do the research myself, and I write reviews of products that I feel are the best choices available. No one else has influenced my decisions.
I hope you'll enjoy viewing my selections.
Visitors who viewed this 2nd Ave Design Pendant also viewed: