Featuring Lodgepole and Knotty Pine
Rustic pine furniture, with its natural variations, is the perfect complement to the decorating projects in your log cabin or timber home.
Pine furniture is popular, partly because of our desire to live closer to Nature and partly because it is an artistic form of folk art.
Using pine furniture in your rustic home gives you lots of options. And rustic pine furniture also blends in well with your beloved antiques and favorite heirlooms.
Some of my favorite pine furniture:
Barn Wood and Log Blanket Chest
Barn Wood and Log Blanket Chest

Ever wonder what to do with seasonal blankets, wool sweaters and off-season clothing?
Years ago, when our homes had no closets (or small ones), people used cedar chests or blanket chests to store them.
It's still a great solution, and a pretty blanket chest like this one is decorative, in addition to being useful.
A blanket chest is often placed at the head of the bed in a bedroom.  But I have also seen them used as a coffee table in the living room or as a bench at the side of a room.
This chest is made of re-purposed barn wood and clean peeled logs at the corners.
It has 3 pretty hand carved trees on the front, adding to its rustic appeal.
A clear finish highlights and protects the natural knots and grain of the wood and contributes to its natural rustic appearance.
The pine blanket chest measures 48″ wide x 24″ deep x 24″ high.
Proudly handcrafted in the USA.
Shop safely at The Cabin Shop and enjoy free shipping on practically everything!
Pine Side Table
Pine Side Table

What a lovely accent table for an upscale rustic lodge!  Or use two rustic pine tables as end tables next to your sofa.
This pretty table features delicate pine cones and pine needles along graceful pine branches.
Each table is handcrafted by skilled artisans, individually, so no two tables are exactly alike.
Use the table to highlight a special decorative piece, a seasonal floral arrangement or as a sophisticated end table in a lodge seating area.
The table measures 24″ x 24″ x 24″ high.  The pine top is distressed, to give the table a worn and aged rustic appearance.  Because they are handmade, each table is unique and slightly different from the others.
Handmade in the USA.
Shop safely at The Cabin Shop and enjoy free shipping on practically everything!
Lodge Pole Pine Log Armoire
Lodge Pole Pine Log Armoire

Need more cabinet space?  Armoires like this one have been used for years, to extend the accessible storage space in older homes.
This pretty armoire is made of lodge pole pine boards, with lodge pole pine logs that are partially peeled.  The logs are used at the corners and for trim.
The effect is very rustic, yet very practical.  Use this armoire for storing jeans, sweatshirts and sweaters on its two shelves, and underwear and socks in the drawers.
Or use it to hide your TV when you are not watching it.  It can accommodate a standard 27″ TV.
The armoire has 3 drawers and two shelves (one shelf is adjustable).  It is finished with an oak stain and a clear finish.
The piece stands 72″ high and is 40″ wide x 25″ deep.  Proudly crafted in the USA.
Shop safely at The Cabin Shop and enjoy free shipping on practically everything!
Barnwood Single Drawer Nightstand
Barnwood Single Drawer Nightstand

Made of weathered rough cut pine, this attractive simulated barnwood nightstand could also double as an accent table or as an end table in a cozy sitting area.
The table has a convenient drawer to keep things handy, and the drawer has ball bearing euro glides for ease of use.
Rough sawn wood retains its saw marks and planer marks, and this table has both, giving it a rustic antique-like look. The drawer pull also has an antique look.
It looks like something your great-grandfather crafted in his woodshop, using hand tools.  Rustic, and sturdy.
You can choose from 3 different finishes: walnut, natural and ebony.
The table measures 25″ wide x 19″ deep x 28″ high.  It has a lifetime warranty.
Shop safely at The Cabin Shop and enjoy free shipping on practically everything!
Pine Hall Cabinet
Pine Hall Cabinet

Beautiful, yet rustic, this pretty cabinet has a number of uses:
Dining Room – Use it to store dinnerware, water glasses, wine glasses, cups, mugs, salt and pepper shakers, sugar bowl and napkins.  Next to your dining table, everything will be within steps for easy table setting.
Hallway – Since the cabinet is only 13″ deep, it can be used in a wider hallway.  Use it there to store candles, candle holders and seasonal ceramic decor.
Bookcase – The cabinet can also be used as a dust-free bookcase to store books and keep them in good condition.
The cabinet is made of solid wood, and the doors are inset.  A fine piece of craftsmanship, this cabinet can be customized to suit your needs.
This is a quality piece of furniture, and it comes fully assembled.  It measures 60″W x 20″D x 36″H.
Shop safely at Black Forest and enjoy free shipping on practically everything!
Caldwell Brook Benn Linn Barnwood Bed
Caldwell Brook Benn Linn Barnwood Bed

If you are looking for a rustic bedroom set, but you want a contrast to the logs in your home, this set could work.
It is made from hand selected rough sawn pine, and it retains its rustic barnwood look, even after it's finished.  The wood is dried to an 8-10% moisture level.
The style works in a contemporary lodge setting, with a southwest theme or in a rustic log cabin.
The bed comes in several sizes:
In addition, the matching dresser and night stand shown in the photo, can be purchased separately.
Shop safely at The Cabin Shop and enjoy free shipping on practically everything!
Barn Wood Widescreen TV Stand
Barnwood wide screen TV stand

Wide enough to hold most TVs, this pretty TV stand can also be used in other areas, as well.
TV and Electronics – Use it in the great room or your family's TV room to hold the TV, DVD player, stereo equipment and related supplies.
Dining Area – Storage inside for dinnerware, napkins, glassware and candles.  Use the top as a serving buffet for guests.
Made of rough sawn pine, the cabinet looks like it is made from premium re-purposed barnwood.
The piece measures 59″ W x 16″ D x 29″ H.  It is handcrafted in the USA.
Shop safely at The Cabin Shop  and enjoy free shipping on practically everything!
Log Desk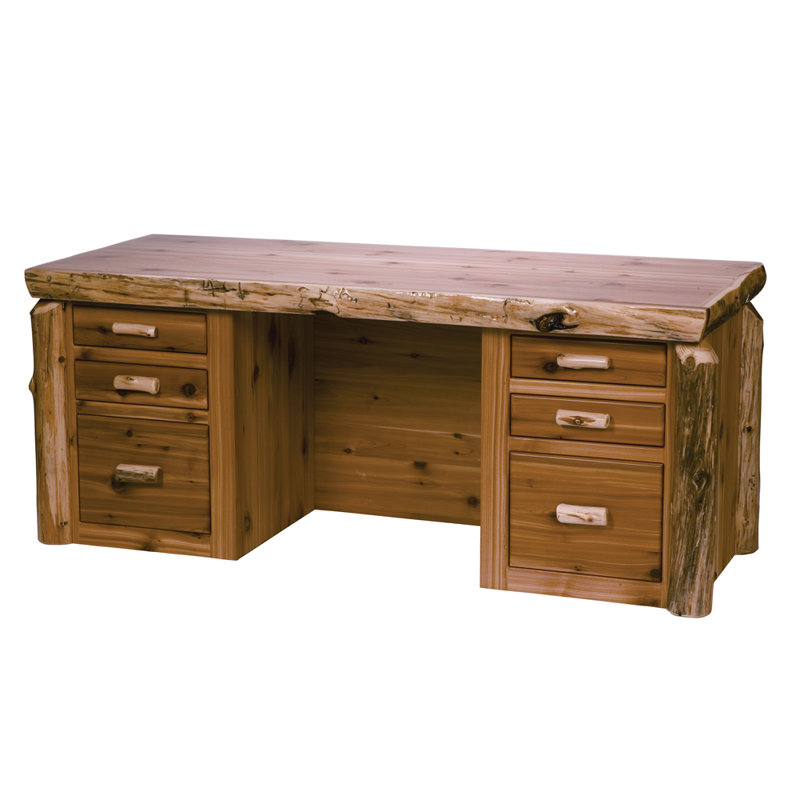 Log Desk
What do you put in a log cabin office?  A log desk, of course!
This pretty log desk, finished in natural wood with a clear lacquer finish, will complement your other rustic log furniture.
Made of knotty pine logs and knotty pine for the drawers, it highlights the natural knots and burls of the wood.
Each of the logs is hand draw-knifed, giving them a unique look and shape.
The natural tones of the wood can include reds and blues, and you never know exactly what your desk will look like–until it's sitting in your office.
In addition to the 6 drawers, you'll also have a pull out keyboard tray.
Finished with 3 coats of clear lacquer.
Shop safely at Wayfair and enjoy free shipping on practically everything!
Log Wine Cabinet
Log Wine Cabinet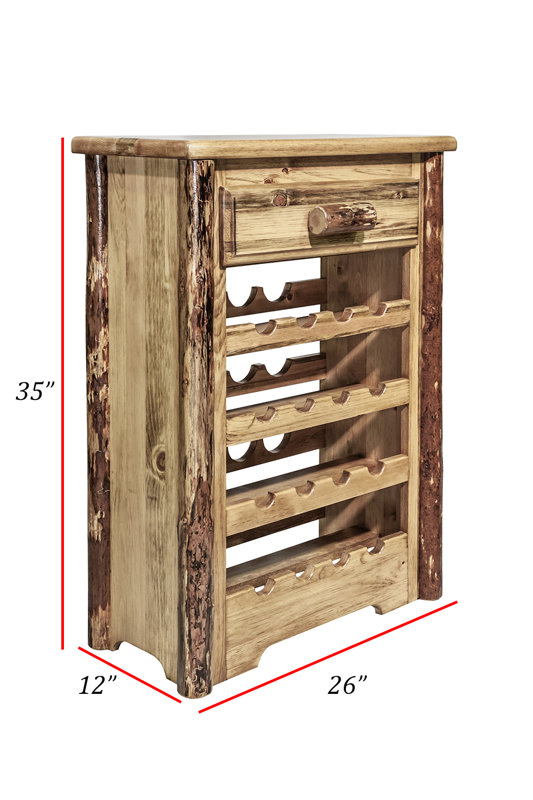 Where do you put your wine bottles in a log home?  That's a good question.
And here's the answer.  This pretty as a picture wine cabinet will hole quite a few of your favorite wines–keeping them handy for drop-in company or for your evening meal.
This pretty cabinet is made of  lodge pole pine, and the rack is handcrafted in Montana, USA.
The wine rack will hold 16 bottles of your favorite wines, ready to be selected when guest arrive.
Finished in a natural clear lacquer finish to preserve the rustic look.
Shop safely at Wayfair and enjoy free shipping on practically everything!
Half Log Bench
Half Log Bench

Plain and simple, this attractive bench will look at home, almost anywhere in your rustic log home or lodge.
Made of a log, sawn in half, it is sturdy and attractive, without being fussy.
It's available in several lengths and sits on lodgepole legs.
Fashioned after the Glacier Country style, popular circa 1900, this is done in the Grand Lodges of the Rockies style.
Each piece is signed by the artisan who makes it.
A true work of art, the bench undergoes an 8 step stain and lacquer spray process, and carries a full 20 year warranty.
Shop safely at Black Forest and enjoy free shipping on practically everything!
Why Decorate with Pine Furniture?
Furniture made from pine logs is sturdy and rugged. It is unmistakably rustic.  And, in addition, pine furniture naturally becomes distressed, over time.  Because of the wood's soft nature, it will get little indentations and small marks, with normal use.
The pine furniture items above are constructed of solid kiln-dried lodgepole pine or knotty pine wood–no fiberboard or laminates.
Quality furniture, made by hand, gives your home a unique high end appearance.  Yet it is a comfortable look, with a cozy down-home feeling.
Use pine log furniture in rooms where you want to feel like you are in a rustic retreat, at camp for the summer, or in a weekend getaway…
Pine log furniture is a popular type of rustic pine furniture in many log homes. And log beds are a great way to furnish a log home bedroom. This bedroom uses round logs in the furniture, which contrast with the flat sided log walls and the tongue and groove ceiling. Note the Pretty quilt and curtains that complement the rustic pine furniture.
Where Would You Use Rustic Pine Furniture?
Rustic pine furniture is a great complement to most cabin themes.  You'll find that this versatile line of furniture often has just the piece for that place in your home that needs a little rustic appeal.
In addition, rustic style furniture, with its handcrafted appearance, makes your home truly unique.  Each piece will vary slightly from the others in color and finish.
Here are some common ways to include the rich style of rustic pine in your home:
Rustic Pine Coffee Table – Pine coffee tables, because they are not as hard a wood as others, will take on a used, distressed and rustic look, after a few years of use.
Pine End Tables – Cute little pine end tables can be used in the living room beside chairs or a sofa. Or they can be used as bed tables, beside the beds in your bedrooms.
Pine

Living Room Furniture

– You can have a distinctive and rustic great room, with only a few pieces of well-chosen pine living room furniture…
Rustic Dining Room Tables – Choose your

dining room

furniture to complement the other rustic furniture in your home. Log homes don't need fancy

dining room tables and

chairs.
Rustic Dresser – A rustic dresser can work in any room of a log or timber home. Consider using a rustic dresser in a large bathroom for storage, in the kitchen or dining room for linens, in the great room for DVDs or for

board games

. And, of course, your bedrooms are a great place for a cute rustic dresser.
Pine Log Bedroom Furniture – Pine log bedroom furniture goes well in any log cabin, lodge, timber frame, or post and beam home.
So, if you are looking for a natural, rustic and handcrafted look for the furniture in one of your home decorating projects, consider using a piece or two of rustic pine to enhance the rich style of your home.
In addition to rustic pine furniture, you may like these related topics: