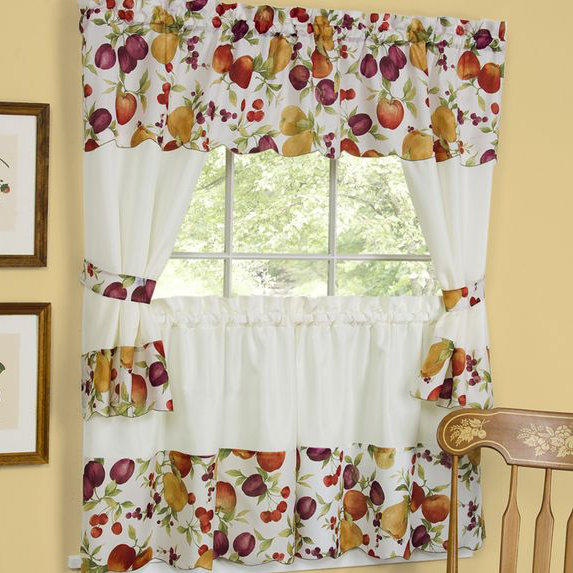 Chesapeake Embellished Cottage Valance and Tier Set
The Chesapeake Embellished Cottage Curtains are bright and cheerful, with their assortment of apples, pears, cherries and plums on a white background.
These tier curtains have a definite country appeal, and they are well suited for rooms where you want to have filtered sunlight and some privacy.
The Chesapeake Embellished Cottage Curtains valance is attached to the side curtains, so they need to be used together.
Chesapeake Embellished Cottage Curtains Details
Length Sizes:
Width: 58″
Colors: Cream, red, yellow, plum, green
Care: Machine wash in cold water on delicate cycle. Use a mild detergent. No bleach. Tumble dry on low.
Fabric: Polyester
Included: 2 tier curtains, 1 tailored valance that has 2 side curtains attached to it. 2 tie backs.
Use: Kitchen curtains, dining room, bath, utility room, laundry room
Manufacture Technique: Machine made
Manufacturer: Achim Home Furnishings
Country of Manufacture: China
Shop safely at Wayfair and enjoy free shipping!
More Information
About Achim Home Furnishings
Achim Home Furnishings is a privately owned company started by Marton B. Grossman in 1962. Grossman is currently the president and remains active in the company.
Achim specializes in decorative ready-made products such as window treatments and rugs.
The company prides itself in providing high quality products at an affordable price, with a good value.
Buying Guides
Understanding Tiers, Valances and Swags
Drapes vs Curtains
How to Measure Windows for Curtains
How to Choose Log Cabin Curtains
How are Cabin Decor Products Chosen?
Here's how I choose the rustic cabin decor that I feature on this site.
More About Chesapeake Embellished Cottage Curtains
When you buy Chesapeake Embellished Cottage Curtains from Wayfair, Wayfair makes it as easy as possible for you to find out when your product will be delivered. In addition, your shipping may be free.
Please read customer reviews and common Questions and Answers about the Chesapeake Embellished Cottage Curtains to learn how others feel about these rustic window treatments.
Whether you just want to buy Chesapeake Embellished Cottage Curtains or shop for your entire rustic log or timber home, Wayfair has a huge selection of rustic cabin decor for your log or timber home. Just click on the button/link above to see what they have.
Visitors who viewed these Apple Kitchen Curtains also viewed: